UltraRoof 380 Conservatory Roof
Ultraroof 380 is a lightweight tiled roof, perfect for revamping your old conservatory
Designed by industry experts Ultraframe, this innovative conservatory roof kit has been precision engineered for maximum strength, thermal efficiency and style. At Specialised Conservatory Systems, we pair that with expert support and assistance across the UK. So, you can transform your conservatory with the best results for years to come…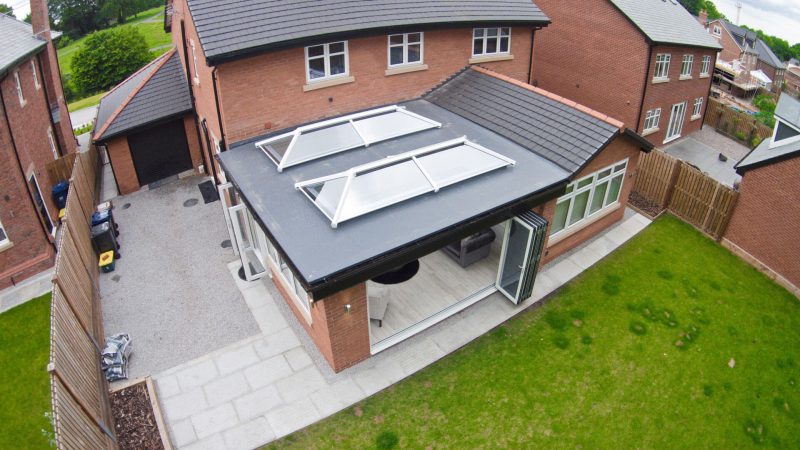 Why replace your roof with Ultraroof 380?
Ultraroof 380 works as an ideal replacement for your tired conservatory roof or can be used to finish off your new extension. At Specialised, we supply traditional Victorian, Georgian and classic lean-to designs, as well as more custom shapes to fit your space. We also include all external items like the gutter fascia at no extra cost to you. Not to mention, Ultraframe will guarantee your roof for 10 years!
But that's not all…
Fast installation
Ultraroof's ingenious three-component design means it can be installed in a fraction of the time compared to conventional methods of roof building. Pre-fabricating your chosen design offsite means quick assembly, so that you can enjoy your new roof in just 6.5 hours – that's less than the average working day! The rapid installation and custom-fit also means less mess and disruption for you and your family.
Authentic-look tiles
What really makes this cost-effective conservatory roof a true market leader is the incorporation of Ultratiles. The lightweight polymer roof tiles have been designed to replicate the high-end look of real slate, without the extra structural reinforcement needed for tile roofing. They're also breathable, allowing air to flow underneath and preventing moisture build-up, yet strong enough to bear weight when stood or knelt on.
What's more, Ultratiles come in three different colours so you can tailor your conservatory roof to match the style of your existing property. Choose from classic Carbon Grey, deep Harvest Brown or warm Terra Brick.
Unrivalled strength
Despite weighing only 38kg per square metre, the Ultraroof 380 is surprisingly strong, even when it comes to larger designs. The reinforced box beam around the perimeter of the roof enables you to have 4m spans for bi-folds without any extra support. There's also no need for an unsightly tie bar, so you can enjoy your impressive vaulted ceiling without interference.
If that wasn't enough, Ultraframe engineer their lightweight conservatory roofs using NASA satellite data, to make sure that your roof meets wind and snow load requirements based on your unique postcode!
Thermal efficiency
With a fully insulated structural beam and a thermal U-Value of 0.17, Ultraroof 380 has one of the most advanced warm roof systems available. The thermally efficient design is the ideal solution for eliminating condensation and will help save you money on energy bills. Your new conservatory roof will also solve the age old problem of a conservatory that's too cold in winter and too hot in the summer, so you can enjoy your additional space all year round.
Customisable
If you're looking to increase the amount of natural light coming into your home, you have the option to install full length glazed panels into your roof. Not only will this brighten your living space, but it will also make a striking addition to your vaulted ceiling – perfect for making the most of the daytime sun and stargazing at night.
Unlike other conservatory roofs, the Ultraroof 380 also features a plastered internal ceiling pelmet which means you can add lighting, from spotlights to down-lighters, with ease.
Conservatory roof specialists
When you're looking to upgrade conservatory roof, you want someone who knows what's best for your home or commercial project. At Specialised Conservatory Systems, our dedicated team have been supplying conservatories for twenty years.
We pride ourselves on giving our customers a top-quality service every time, from initial consultation to delivery and ongoing support, whether domestic or commercial. After all, we'd be nothing without you.
Ready to upgrade your conservatory roof?
If you're interested in upgrading to a lightweight Ultraroof and want to find out more, our specialist team are on hand to give you personalised advice regarding design, cost and timescales, to help you start the process.
Give us a ring on 01772 822232 or alternatively fill out the contact form below to arrange a call-back. We look forward to hearing from you soon.